Revolutionize your business: discover how we can boost your company with cutting-edge technological solutions!
Welcome to the world of technological transformation with Imaginedone! Based on our extensive experience in the market, we are prepared to propel your company into the future.
No matter what stage you are at – from creating a system from scratch to modernizing a legacy one – our specialized team is ready to provide customized solutions that will streamline your processes and make them more efficient.
We go beyond the basic and simple applications and deliver projects that embrace innovation, allowing your business to unleash its full potential.
Check out some of our products:
Automate the CNPJ queries of the companies registered in the CRM
Do you need to have a thorough understanding of the companies you do business with, right?
You can use the plugin developed by Imaginedone to check the company name, CNAI, and other reliable data of companies registered in the Salesforce CRM.
The consultation is done automatically, and you can request the synchronization of the information with the SF software, in other words, have the data automatically filled into the system.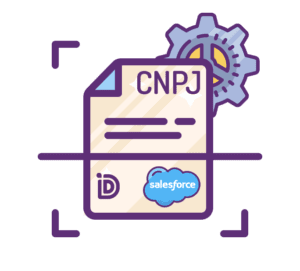 ZIP/Postal Code Query System
Automate the ZIP/Postal Code consultation of the companies registered in the CRM.
Do you need to confirm the corporate address of companies registered in your Salesforce CRM?
With our plugin there's no red tape: you can perform the ZIP/Postal code search automatically and even synchronize the address information with the SF.
Marketing Cloud x WhatsApp Integration
Integrate Marketing Cloud with WhatsApp cost effectively and efficiently.
If you use WhatsApp in your marketing strategy, you will love to experience the Marketing Cloud x WhatsApp integration developed by Imaginedone
With this system, it is possible to send automatic and personalized messages using another provider's WhatsApp service.
The application is a practical way to ensure interactivity and quickness when serving your customers.
Automated PDF generation via API with Salesforce integration
Optimize document delivery using Salesforce CRM integration.
Companies using Marketing Cloud can send emails, SMS, notifications, and even WhatsApp messages automatically. However, PDFs cannot be sent this way, hindering communication in certain situations.
Using an API created by Imaginedone and integrated with Salesforce, you can send PDF documents (via link or attachment) based on the data and template
information provided by the customer.
ID generates the PDF, saves it in S3, and provides the link for the client to send it to its consumers via e-mail, SMS, WhatsApp, or push. Simple and practical!
In addition, you can also have access to the Marketing Cloud PDF, with a predefined template. There are two different types of PDFs to facilitate the company's processes.
If you have questions or would like to hire one of the applications, talk to one of our experts right now!